The Ghost Whisperer Encyclopedia
Crossing Over into the Light
Currently
195
articles for

's hit TV show
It's Best To View This Wikia in Mozilla Firefox

Latest News
Season Four DVD Announced and Artwork Revealed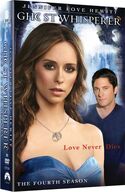 By Gavin Hetheringon, UltimateGhostWhisperer Staff
As Jay Mohr departs in the season premiere, Jamie Kennedy joins the cast with Jennifer Love Hewitt, David Conrad, Camryn Manheim and Christoph Sanders in Ghost Whisperer - The Complete 4th Season. CBS DVD and Paramount Home Entertainment have announced today that this release will be coming to stores on September 22nd. Not too many details are available yet, but specs provided show it will be anamorphic widescreen video, English 5.1 audio, and a running time of 1015 minutes. Bonus material isn't officially revealed yet, but previous releases are an indication that fans should be able to look forward to commentary tracks, featurettes, and the third run of "The Other Side" webisodes to all be included. Read more...


Season Five - 5x02- See No Evil Plot Summary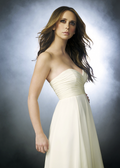 By Gavin Hetheringon, UltimateGhostWhisperer Staff
Melinda investigates a cursed chain email that goes viral, putting all who don't immediately forward it in grave peril. This episode was written by Jeannine Renshaw, who has wrote several episodes to date, including "Horror Show" and co-wrote "Thrilled to Death", and will be directed by Eric Laneuville, who also directed the episodes "Imaginary Friends and Enemies" and "Undead Comic". Read more...


Season Five Premiere News, 5x01- Birthday Prescence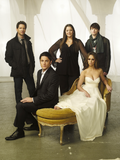 By Gavin Hetheringon, UltimateGhostWhisperer Staff
CBS has announced that the new season of Ghost Whisperer will begin on Friday September 25, 2009, maintaining its original timeslot. The plot entails that a woman who died during childbirth is determined to be reunited with her son as Melinda undergoes immediate C-Section. This indicates that Melinda will have her baby in the premiere. Casting is looking for an Aiden Lucas, Melinda and Jim's son, and so a 5-year time jump may also be possible in the episode or later in the series. Read more...


---
recommend news ·

archive

Contribute
To write a new article, just enter the article title in the box below.
<createbox> width=40 break=no buttonlabel=Create New Article </createbox>
---
Search to see if the article exists before attempting to create one.

Quote of the Week
"

(phone call)
PROF. PAYNE: Is it raining where you are?
MELINDA: Well, Professor Payne... No, it's the shower...
PROF. PAYNE: You know, it's too much information... Actually, it's not enough information...
MELINDA: Well, that's all you're getting!
PROF. PAYNE: You're cruel, but you knew that, didn't you?
-"Dead to Rights"

"
---
See all the quotes and suggest your own at the submissions page.

Index
---