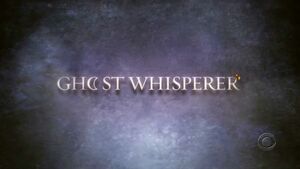 Ghost Whisperer is a American television series created by John Gray. It first premiered on CBS on September 23, 2005.[1]
The series follows the life of Melinda Gordon, a young woman from Grandview, who has the ability to see and communicate with the dead. While trying to live as normal a life as possible, Melinda helps them pass over to the other side by working as a paranormal investigator.[2]
Ghost Whisperer airs Friday nights at 8/7c on CBS. The show is produced by Sander/Moses Productions, in association with ABC Studios and CBS Television Studios.[3]
Ghost Whisperer is based on the work of "Spirit Communicator" James Van Praagh,[4] who is co-executive producer[5] and regularly updates a blog about the show through CBS.[6] The stories are also said to be based in part on the work of "Spirit Communicator" Mary Ann Winkowski.[7] Development of the show dates back to at least two years before its premiere.[8]
The show is currently produced by Sander/Moses Productions in association with CBS Television Studios (originally CBS Productions in season one and CBS Paramount Network Television in seasons two and three) and ABC Studios (originally Touchstone Television in the first two seasons).
The show is filmed on the Universal Studios back lot in Hollywood.[9] One area on the lot is Courthouse Square from the Back to the Future trilogy, though it has been drastically modified to portray Grandview. For example, the clock tower present in Back to the Future has been completely covered up. Cast and crew members also believe that the set gets visits from real spirits.[10]
Sound effects are completed at Smart Post Sound.[11] Visual effects for the pilot and some season 1 episodes were completed at Flash Film Works.[12] Visual effects for nearly the entire series have been created at Eden FX.[13]
The hair stylist for the show's protagonist, Melinda Gordon (played by Jennifer Love Hewitt), was five-time Emmy Award-nominated hair designer Michael Reitz.
Ghost Whisperer was originally produced by Paramount Television and Touchstone Television.
The show's title is a reference to the main character Melinda Gordon (portrayed by Jennifer Love Hewitt), who lives in the town of Grandview with her husband Jim Clancy (David Conrad), a medic from Mercy Hospital.
Creator John Gray grew up in Brooklyn, New York, which is only a few miles away from Grandview, west of the Hudson River. Piemont is referenced often in episodes as the neighboring town, which is accurate to real life as Grandview is actually located just north of Piemont. And Professor Rick Payne worked in the fictional "Rockland University", and coincidentally, the actual Grandview is a village located in Rockland County, New York.
The first season premiered on September 23, 2005 and ended on May 5, 2006. It has received an average of 10.20 million viewers. Season two of Ghost Whisperer premiered on September 22, 2006 and ended on May 11, 2007, again airing Friday nights on CBS during the same timeslot. CBS officially renewed the show for a third season placing it in its regular Friday 8 p.m. time slot. (Eastern US Time) The third season premiered September 28, 2007. Due to the writers strike 12 episodes were completed before the strike. However, once the strike ended, CBS had announced that the show would return April 4, 2008 with 6 episodes. [14] On February 15, 2008, CBS renewed Ghost Whisperer for a fourth season.[15] For the fourth season, Jamie Kennedy would join the cast as the psychology professor Eli James and Jay Mohr would be leaving after appearing in the first episode as his character Professor Rick Payne takes a sabbatical (Mohr took a role in Gary Unmarried).[16] Previously recurring cast member Christoph Sanders also joined as a regular cast member. The fourth season of Ghost Whisperer premiered on Friday, October 3, 2008 and concluded on May 15, 2009. The season consisted of 23 episodes.[17][18] It was announced in an interview by P.K. Simonds with E! Online that Ghost Whisperer will return for a 5th Season.[19]
The show costs an average $3 million dollars per episode to produce, a cost that is split between ABC Studios and CBS Television Studios.
CBS officially renewed Ghost Whisperer for a 5th Season on May 20, 2009. [20]
On May 5, 2008 it was announced that the first three seasons of Ghost Whisperer were purchased for $169.8 million dollars ($700,000 per episode, per network) for syndication by the Sci Fi Channel (United States), ION Television, and WE: Women's Entertainment. Episodes begun airing in Summer 2009 on ION, and in Fall 2009 on Sci-Fi and WE.[21]
Ghost Whisperer: The Other Side
[
edit
|
edit source
]
A series of webisodes entitled Ghost Whisperer: The Other Side have been released on the Ghost Whisperer website.[22] A total of eight webisodes were produced and extras (such as trailers and behind the scenes) are available for viewing. The story follows Zach (played by Mark Hapka), a young delivery boy who dies while delivering a package. He soon learns how to do things in the spirit world, and gets revenge on Danny, the man he thinks killed him, and his former best friend. Melinda from the television series doesn't appear in the internet series as it takes place entirely in the spirit world. However, ghosts from the television series have appeared in some webisodes.
In the second season finale of Ghost Whisperer, Zach made an appearance while trying to get help from Melinda before being taken into the Dark Side leaving the internet series in its own cliffhanger.
The second season of The Other Side premiered on the CBS website on January 18, 2008.[22] Season 3 deals with Zach trying to help his high school crush Olivia find true love as her ex soon to be husband does not love her.
andshamethedevil.net[23] is a site linked to Ghost Whisperer. The site is mentioned in the Season 3 premiere. By visiting the site and clicking on the word 'bloody', it leads to another site rubloodymary.com By clicking on the star in the upper right hand corner, the site appears to crack into pieces. Those pieces can be moved by dragging, revealing this message: "Meet Me In The Underworld". Small type at the bottom of the page read the repeated words: "bloody mary. bloody mary. bloody mary."
rubloodymary.com is mentioned in episode 302 - "Don't Try This At Home" - which prominently features the Bloody Mary Urban Legend. When visiting rubloodymary.com if you click and hold down anywhere on the main page and scrub you can erase the image, revealing another image underneath that reads "...until she is trapped underground." Above that there is a countdown timer that, doing the math, counts down to Friday, October 26, 2007, episode 3.05 of Ghost Whisperer aired that night.
Other features: There is a stories link that takes you to a book with a Bloody Mary tale in it. The very last line reads "I hope she doesn't go into the church."
Finally, there is an email address to which to connect, and several links, some to the Ghost Whisperer Myspace page and ghostwhisperer.com and one that links back to andshamethedevil.net which is another secret Ghost Whisperer site.
In the series, the Penthius site is often used by Melinda to look up information about the families and ghosts that she is investigating in Grandview. A real world version of this site has been up since February 2008. The site description reads: "Penthius.Info is a free search engine and video super site based on the search engine in the television series The Ghost Whisperer with Jennifer Love Hewitt." It was first mentioned in a post on TV.com by misscalais[24], a fan who created the site to promote the show.
Ghost Whisperer is a series that follows the life of Melinda Gordon, a young woman from Grandview, who has the ability to see and communicate with the dead. Melinda lives with her husband Jim, and is the owner of an antique shop. Ghosts seek Melinda's help in relaying a message or completing a task that will put the spirit to rest, and allow them to cross over into The Light, a metaphor presented by the show as its conception of Heaven.
The First Season introduces Romano, a former cult leader from Europe who influenced his followers to commit a mass suicide in 1930. His own suicide transformed him into an earth-bound negative entity. Romano attempts to do the exact opposite of Melinda and gather earthbound souls and prevent them from crossing over into the Light.
In the Second Season, Melinda meets Delia Banks, her son Ned Banks, and Professor Rick Payne, all of whom, by season's end, come to learn of Melinda's power, with contrasting reactions. The second season revolves around the thinning veil between the living and the dead. Melinda meets a man whose arrival in Grandview sets the final events of a disastrous prophecy in motion, and the strengthening of the dark side over the Light.
In the Third Season, Melinda searches in her family history for answers as she gets closer and closer to learning the secret of her gift, her childhood, and her father.
In the Fourth Season, Melinda meets Eli James after a fire at Rockland University and says goodbye to her close friend Rick Payne, who leaves Grandview for a research trip for the university. After experiencing her own personal tragedy, Melinda discovers that her life will never be the same again.
In the Fifth Season which will begin airing on Friday, September 25, 2009 at 8pmEST.[25]
Main article: Main Characters
Country
Title
Literal Translation
Network
Air Time
Argentina
Ghost Whisperer
Sony Entertainment Television
Thursday 11:00 pm
Australia
Ghost Whisperer
Seven Network
Thursday 7:30pm
Austria
Ghost Whisperer - Stimmen aus dem Jenseits
Voices from Beyond
ORF 1
Monday 00:30am
Belgium (Flemish/Dutch)
Ghost Whisperer
Digital
Soon
Belgium (Flemish/Dutch)
Ghost Whisperer
VTM
Tuesday 22:00pm
Belgium (Walloon/French)
Melinda entre deux mondes
Melinda between two worlds
PlugTV
Tuesday and Wednesday 8:00pm
Bosnia and Herzegovina
Šaptačica duhovima
OBN
Tuesday 8:00pm
Brazil
Ghost Whisperer
Sony Entertainment Television
Thursday 10:00pm
Bulgaria
Шепот от отвъдното
A whisper from the beyond
bTV
AXN
Saturday 9:00pm
Monday to Friday 1:00am and 9:00pm
Canada
Ghost Whisperer
CTV Television Network
Friday 8:00pm
Canada (French)
Melinda entre deux mondes
Melinda between two worlds
Ztélé
Tuesday 5:00pm
Chile
Ghost Whisperer
Sony Entertainment Television
Thursday 11:00 pm
Colombia
Ghost Whisperer
Sony Entertainment Television
Tuesday 9:00 pm
Denmark
Ghost Whisperer
Kanal 4
Thursday 8:00 pm
Ecuador
Almas Suspendidas
Suspended Souls
Fiji
Ghost Whisperer
Fiji One
Friday 9:15pm
France
Ghost Whisperer
TF1
Saturday 4:00pm
Germany
Ghost Whisperer – Stimmen aus dem Jenseits
Voices from Beyond
Kabel 1
Fridays 8:15pm
Greece
Φαντάσματα (Phantasmata)
Ghosts
ET1
Tuesdays 9:00pm
Hungary
Szellemekkel suttogó
Ghost Whisperer
AXN
Mondays 9:00pm
Hungary
Szellemekkel suttogó
Ghost Whisperer
TV2
Wednesdays 10:10pm
India
Ghost Whisperer
StarWorld
Indonesia
Ghost Whisperer
StarWorld Asia
Tuesday 9:00pm and Sunday 12:00am (Re-Run)
Ireland
Ghost Whisperer
RTE One
Friday Mornings, 1:10am. (Season 4)
Italy
Ghost Whisperer - Presenze
Ghost Whisperer - Presences
RaiDue / Foxlife
Wednesday 9:00pm
Israel
הלוחשת לרוחות
Ghost Whisperer
Yes Stars Action
Monday 21:45pm
Kenya
Ghost Whisperer
MBC4
Latvia/Lettland
Ēnu Čuksti
Whispers of the Shadows
LTV7
Sundays 10:00pm
Lebanon
TV land
Tuesdays 8:00pm
Lithuania
Dvasių Užkalbėtoja
Ghost Whisperer
LNK
Saturdays and Sundays 12:50am
Malaysia
Ghost Whisperer
8TV
Tuesdays 10:30pm
Mexico
Almas Perdidas
Lost Souls
Azteca 7 / Sony Entertainment Television
The Netherlands
Ghost Whisperer
NET 5
Sundays 9:30 pm, Mondays 7:00 pm
New Zealand
Ghost Whisperer
TV2
Fridays 8:30 pm (1x01 - 1x22)
Mondays 9:30 pm (2x01 - 3x16)
Mondays 8.30 - 10.30 (3x17 - 3x18)
Sundays 8.30pm (4x01 - 4x04)
Thursdays 8.30pm (4x05 - present)
Norway
Ghost Whisperer
TV Norge
Philippines
Ghost Whisperer
Studio 23
Fridays 8:00 pm
Philippines
Ghost Whisperer
Star World
Saturdays 11:00 pm
Poland
Zaklinacz Dusz
Souls Whisperer
Fox Life
Portugal
Em Contacto / Entre Vidas
In Contact / Between Lifes
Fox Life / SIC
Season 4 - Sunday 9:00 p.m

Season 1/2/3 - from Monday to Friday at 8:10 p.m

Puerto Rico
Almas Suspendidas
Suspended Souls
WAPA-TV
Tuesday 10:00pm
Romania
Mesaje de dincolo
Messages from beyond
PRO TV / AXN
Russia
Говорящая с призраками
Speaking with Ghosts
Fox Life
Serbia
Saptacica Duhovima
Fox Life
On Weekends at 9:00pm
Singapore
Ghost Whisperer
MediaCorp TV Channel 5
Friday 10:00pm
Spain
Entre Fantasmas
Among Ghosts
Cuatro / Fox
Sunday 10:25pm / Friday 9:30pm
Sweden
TV4 AB
Switzerland (French)
Ghost Whisperer
Télévision Suisse Romande
Switzerland (Italian)
TV4 AB
Thailand
Ghost Whisperer
Star World
Turkey
Ghost Whisperer
CNBC-e
Wednesday 9:00pm
United Kingdom
Ghost Whisperer
E4 (Season 1)
LIVING (Season 2+)
Virgin 1 (Season 2)
E4 Various Times
LIVING Tuesdays 9:00pm
Virgin 1 Tuesdays 9:00pm
United States
Ghost Whisperer
CBS
Friday 8:00pm
Venezuela
Voces del más allá
Voices from Beyond
Televen
Vietnam
Lời thì thầm của những bóng ma
Ghost Whisperer
VTV6
Saudi Arabia
Ghost Whisperer
Ghost Whisperer
MBC 4
Monday 10:00pm
Community content is available under
CC-BY-SA
unless otherwise noted.